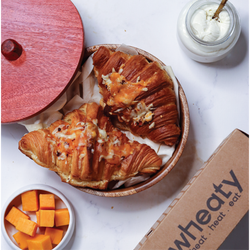 Wheaty's - Chilli Cheese Croissant, Whole Wheat (Per 2 Pieces)
Made with 100% Atta and French Butter, our Chilli Cheese Croissant is a crunchy and fluffy crescent-shaped roll. Wholesome and filling it is a perfect evening snack or great with your morning tea.
Ingredients : Whole Wheat Atta, Butter, Sugar, Salt, Milk, Yeast, Cheese, Chillies.