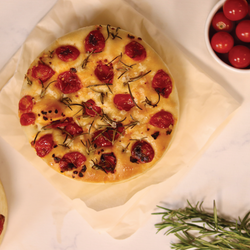 Wheaty's - Rosemary, Garlic & Tomato Focaccia
Our freshly baked, fragrant focaccia is infused with herbs and delicious cherry tomatoes to enhance the flavour. It's crusty and crispy and comes with an airy, springy center, with a tender top.
*Disclaimer*-Order for this item needs to be placed between 10am-9pm, 1 day prior to the chosen delivery date.
INGRIDIENTS: Refined Wheat, Salt, Olive Oil, Rosemary, Cherry Tomato, Yeast
Storage & H(eating) suggestions: Shelf life is 3 days. Freezing is not recommended. To eat, warm in an oven at 180 degrees for 3 minutes. Do not microwave. Drizzle some olive oil over the focaccia as you serve it with a salad or an appetizer!