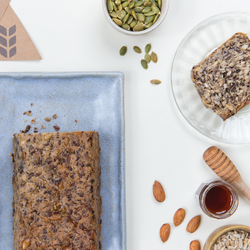 Wheaty's - Gluten Free Seeded Loaf (Sliced)
No Wheaty! Our Gluten-Free Seeded Loaf contains no flour of any kind! Only the best organic oats, nuts and seeds, it is not your typical bread, but it is amazingly satisfying! Perfect as a toast, with cheese or pâté and great for everyone including those who love gluten!
*Disclaimer*-Order for this item needs to be placed between 10am-9pm, 1 day prior to the chosen delivery date.
INGRIDIENTS: Gluten-Free Oats, Almonds, Psyllium Husk, Salt, Honey, Olive Oil, Sunflower+Pumpkin+Flax+Chia Seeds, No Yeast.
Storage & H(eating) suggestions: Please refrigerate, wrapped. Shelf life is 3 days. Best enjoyed as thin slices toasted. This is not your typical loaf of bread, it's dense but full of nuts and seeds and extremely nutritious! For long term storage (15 days) cut and wrap individual slices and freeze.