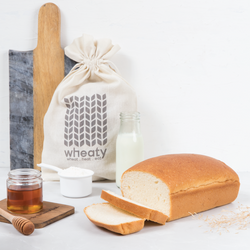 Wheaty's - Soft Milk Bread (sliced)
Milk Bread, 2.0! Your childhood favourite BUT BETTER! Made all-natural, without yeast, only "Wheaty" - our own sourdough culture built from scratch. It contains the goodness of Organic white flour, whole milk & organic honey. It is a soft crust bread with a very low amount of sourness. Perfect for sandwiches and for kids! No more bread loaded with sugar and chemicals for fussy kids!
*Disclaimer*-Order for this item needs to be placed between 10am-9pm, 1 day prior to the chosen delivery date.
INGREDIENTS: Refined Organic Wheat, Milk, Salt, Honey, Butter
Storage & H(eating) suggestions: Do not refrigerate. Shelf life is 3 days. Leave wrapped on counter. Loaves are best enjoyed as sandwiches. For long term storage (15 days) cut and wrap individual slices and freeze. Toast directly from freezer (removing wrap of course!) enjoy with butter (our favourite!), avocado or plain!