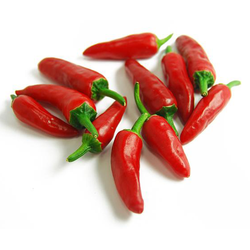 Thai Red Chilli - Small (Per 100 Grams)
The bright colour of red chilli peppers signals its high content of beta-carotene or pro-vitamin A. Chillies are also a good source of antioxidants. Forty-two grams of the spice would account for your recommended daily allowance of vitamin C. They're rich in minerals such as iron and potassium.
DELIVERY: We currently deliver in Delhi-NCR.

STORAGE: Refrigerate the box if not consuming immediately. Do not preserve the box for long.