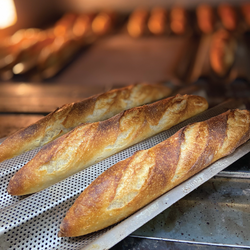 Wheaty's - Baguette (Per 2 Pieces)
Cwusty, Cwunchy, Cwispy! Two demi baguettes, made with sourdough & a lot of love! Perfect for Bruschetta, with Tapenade or Pate, or a crusty sandwich or just lightly warmed in the oven with cheese & chilli for a grown up chilli cheese toast!
*Disclaimer*-Order for this item needs to be placed between 10am-9pm, 1 day prior to the chosen delivery date.
INGRIDIENTS: Refined Wheat, Salt

Storage & H(eating) suggestions: Do not refrigerate. Shelf life is 3 days. Leave wrapped on counter. For long term storage (15 days) wrap and freeze. Heat at 180 degrees in pre-heated oven for 3 minutes.