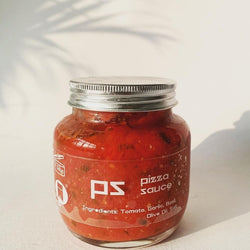 Wheaty's - Tangy Italian Tomato Sauce (Per 250 Grams)
Pizza makes anything possible, especially when you have the right sauce for it. Made with the juiciest of Italian tomatoes our pizza sauce has that perfect consistency and aromatic flavours that will make you keep dreaming of pizzas every day! And you can use this sauce for Pasta too!
*Disclaimer*-Order for this item needs to be placed between 10am-6pm, 1 day prior to the chosen delivery date.
INGRIDIENTS: Italian Tomatoes, Garlic, Olive Oil, Basil, Sea Salt
Storage & H(eating) suggestions: Do not freeze. Shelf life is 3 days. Can be refrigerated. What better way to have it than with our thin crust or wood-fired pizza base. This sauce is sufficient for 2-3 Neapolitan Pizzas or 3-4 Thin Crust Pizzas.

Price inclusive of tax.