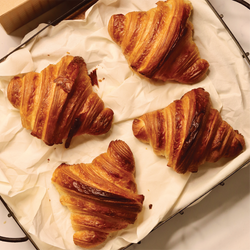 Wheaty's - Classic Croissant (Per 2 Pieces)
Rolled and folded with love. Our Classic Croissants are layered with flavour and prepared with the best unbleached flour and French Butter! Our perfectly baked light and flaky Croissants taste best with some warm coffee or if you are in the mood to indulge then pair it with some more butter or fresh berry jam.
*Disclaimer*-Order for this item needs to be placed between 10am-9pm, 1 day prior to the chosen delivery date.
INGRIDIENTS: Flour, Butter, Sugar, Salt, Milk, Yeast.
Storage & H(eating) suggestions: Shelf life is 3 days. Should be refrigerated. Wrap and freeze for up to 1 month. To eat, warm in an oven or Air Fryer at 180 degrees for 3 minutes. Do not microwave.