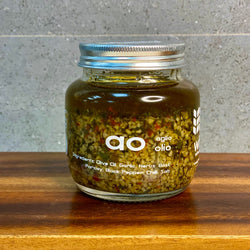 Wheaty's - Aglio Olio (Per 250 Grams)
Olive You! The Perfect Accompaniment!
This spectacular Olive Oil, Garlic & Herb dip is perfect as a dip or sauce, or even a dressing!

Ingredients - Olive Oil, Garlic, Herbs, Basil, Parsley, Black Pepper, Chilli, Salt.
Storage - Do not freeze. Shelf life is 15 days. Must be refrigerated. Enjoy it with our foccacia or use it to toss a salad or in pasta! It even works to fold and dip your pizza in! And tastes AMAZING with sourdough.