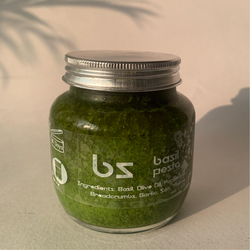 Wheaty's - Fresh Basil Pesto (Per 250 Grams)
Made with the freshest of ingredients, our basil pesto sauce is rich, intense and nothing but full of flavour and lots of love. Now devour a delicious pesto sandwich or pasta. We are here to make everything yum yum and easy for you!
*Disclaimer*-Order for this item needs to be placed between 10am-9pm, 1 day prior to the chosen delivery date.
INGRIDIENTS: Fresh Basil, Olive Oil, Parmesan, Breadcrumbs, Garlic, Sea Salt, Thyme. No Nuts!
Storage & H(eating) suggestions: Do not freeze. Shelf life is 3 days. Can be refrigerated. Enjoy as a dressing on fresh veggies or have it with our sourdough bread!
Price inclusive of tax.