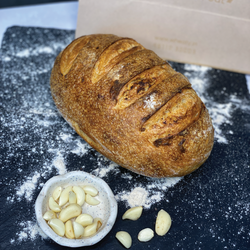 Wheaty's - Garlic Oval Sourdough (Sliced)
Everyone loves Garlic Bread! We guarantee this will be the "bestest" garlic bread you have ever had! Contains 30% whole wheat, no sweeteners or dairy and no yeast, only "Wheaty" - our own sourdough culture built from scratch. It is a soft to medium crust bread with a low amount of sourness. We love baking it in the oven with cheese or using it for a garlicky avocado toast!
*Disclaimer*-Order for this item needs to be placed between 10am-9pm, 1 day prior to the chosen delivery date.
INGRIDIENTS: Refined Wheat, Whole Wheat Atta, Garlic, Sea Salt
Storage & H(eating) suggestions: Do not refrigerate. Shelf life is 3 days. Leave wrapped on counter. Ovals are best enjoyed sliced & toasted. For long term storage (15 days) cut and wrap individual slices and freeze. Toast directly from freezer (removing wrap of course!) enjoy with butter (our favourite!), avocado or plain!