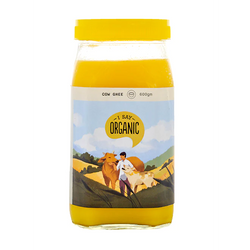 Organic Ghee (Per 300 Garms)
Our Desi Cow Ghee is made in an Ayurvedic, handcrafted way, involving lots of time, patience and care. The indigenous Himachali cows, the fresh forest fodder they consume and the actual process of making the pure cow ghee help provide us with the best quality product, with a pure, divine taste. It also keeps the ghee's nutrition intact.

There are multiple pure Desi Ghee benefits like it being a high dose of Vitamins & Omega Acids. It's also great for the skin, acting as a moisturiser & anti-ageing ingredient! Pure desi ghee is light and easy to digest, making it a delicious and healthy addition to your meals.

Have delicious pure desi ghee online from I Say Organic now.