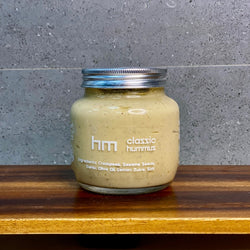 Wheaty's - Classic Hummus (Per 250 Grams)
Hmmm!
You'll be humming to our all-natural, super silky Hummus! With the best ingredients, this luscious, creamy dip to our stunning Pitas needs no introduction!
Ingredients - Chickpeas, Sesame Seeds, Garlic, Olive Oil, Lemon Juice, Herbs, Salt.

Storage - Do not freeze. Shelf life is 5 days. Must be refrigerated. Enjoy it with a spoon, straight from the jar or have it with our pitas or as a sandwich spread or on sourdough toast!