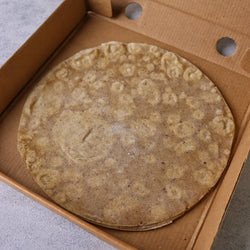 Wheaty's - Gluten Free Pizza Base (Per 3 Pieces)
Gluten-Free! Three pieces of our super thin crust pizza, now in a Wheat Free version! Made in our wood-fired oven, our pizza dough is fermented for over 24 hours and contains the very best ingredients.


*Disclaimer*-Order for this item needs to be placed between 10am-6pm, 1 day prior to the chosen delivery date.
Storage & H(eating) suggestions: Please refrigerate, wrapped. Shelf life is 3 days. For long term storage (15 days) wrap and freeze individually.