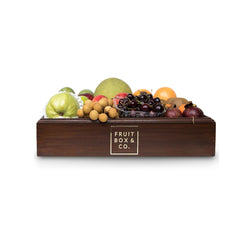 Whimsical Wooden Tray (Medium)
Size of tray: 20"x15"x4"

For Fruit Box & Co.'s love for design, our gift boxes and their fruit combos are reworked every three to four months to provide avant-garde choices now and always. Our sumptuous fruits and resplendent gift boxes are sure to leave you and your loved ones wanting for more. 

DELIVERY: We currently deliver in Delhi-NCR.
BOX CONTENTS: Grape Fruit, Mango, Apple Washington, Granny Smith Apple, Thai Guava, Royal Gala Apple, Pomelo, Persimmon, Zespri Kiwi, Thai Mandarin, Mangosteen, Imported Cherry, Thai Litchi.