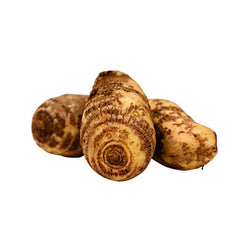 Colocasia - Arbi (Per 250 Grams)
Arbi, when cooked, steamed or boiled has a sweet and nutty taste. It is an ideal food, which has various potential health benefits. With very low calorie content and high in nutrients, arbi can actually help in losing weight. 
DELIVERY: We currently deliver in Delhi-NCR.
STORAGE: Refrigerate the box if not consuming immediately. Do not preserve the box for long.