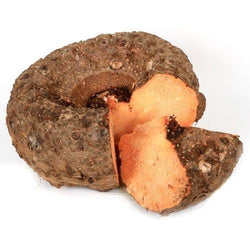 Jimikand (Per Piece 1-1.5 KGS)
Yams have got a starchy as well as slippery texture so when cooked, will be either creamy or even firm, based upon the variety. Their taste is earthy and also hardy, with many varieties having minimal, if any, sweetness. It is made up of dietary fiber and complex carbohydrates which allows slow uptake to normalize the level of blood sugar. It provides healthy amounts of potassium, fiber, metabolic B vitamins and manganese.
DELIVERY: We currently deliver in Delhi-NCR.
STORAGE: Refrigerate the box if not consuming immediately. Do not preserve the box for long.