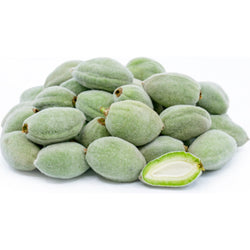 Green Almonds (Per 500 Grams)
Green almonds are the raw and freshly harvested variant of the most classic dried almonds. They contain numerous nutrients useful for our health but also precious for the skin and hair care. Green almonds are good for your heart, fight bad cholesterol and are great for strengthening bones and teeth.

DELIVERY: We currently deliver in Delhi-NCR.
STORAGE: Refrigerate the box if not consuming immediately. Do not preserve the box for long.