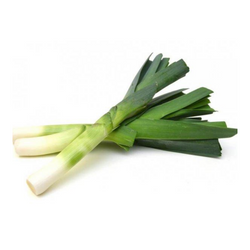 Leeks are a rich source of vitamins B6 and K, as well as iron, manganese and dietary fiber. It also contain insulin and sulfur which help protect cells and reduce bad cholesterol respectively. 
Application:- Leeks are generally sautéed in oil or butter to soften or "sweat" before adding to pizzas, pastas, egg dishes, risotto, or served on their own as a side. Chopped Leeks are used in soups, stir-frys, or braised with carrots and celery. Leeks are also a popular tart or pastry filling.
DELIVERY: We currently deliver in Delhi-NCR.