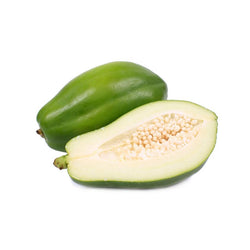 Raw Papaya has a few distinct health benefits, from its sweeter ripecounterpart. Fiber from raw papayas resists digestion until large intestine, where it ferments. It even consist of  antioxidants and  Potassium which regulates blood pressure, neuromuscular system, water balance etc.
DELIVERY: We currently deliver in Delhi-NCR.
STORAGE: Refrigerate the box if not consuming immediately. Do not preserve the box for long.