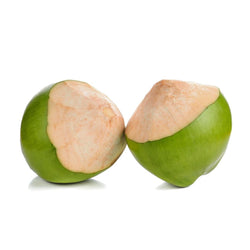 Tender Coconut (Per Piece)
Tender Coconut water's natural electrolytes make it a solid match for traditional sports drinks. In addition to all of its hydrating benefits, Tender Coconut water contains antioxidants that help to neutralize oxidative stress and free radicals induced by exercise. It can also prove to be a great choice for a weight loss regime. 

DELIVERY: We currently deliver in Delhi-NCR.
STORAGE: Refrigerate the box if not consuming immediately. Do not preserve the box for long.