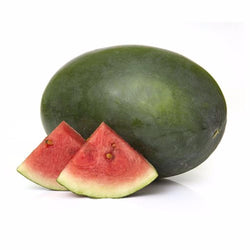 Watermelon (Per Piece Appx 2-3 Kgs)
Increasing consumption of Watermelons can decrease the risk of obesity and diabetes. They help improve the health of the circulatory system in obese middle-aged adults with prehypertension or stage 1 hypertension. Watermelons, because of their water and fiber content, help prevent constipation and promote regularity for a healthy digestive tract.

DELIVERY: We currently deliver in Delhi-NCR.
STORAGE: Refrigerate the box if not consuming immediately. Do not preserve the box for long.