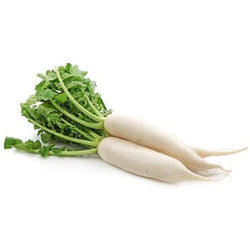 White Radish (Per 500 Grams)
Radishes are high in potassium, which can help lower your blood pressure. They also support the generation of collagen, which helps keep blood vessels healthy. Radishes are also thought to control damage to red blood cells and help increase oxygen supply to the blood.
DELIVERY: We currently deliver in Delhi-NCR.
STORAGE Refrigerate the box if not consuming immediately. Do not preserve the box for long.